How to Install ThorTurf Horse Arena Footing
ThorTurf

™

Footing Installation
Base Requirements for ThorTurf
ThorTurf must be applied over a firm, solid, level, well-draining base. The base must be composed of 4-6 inches of dry, firmly compacted materials, such as crushed stone, limestone, or other suitable compactible materials. The base must be level. Base materials must be rolled and compacted with a minimum 3-ton vibratory roller. The base of the arena must be constructed so as to maintain dry conditions and not be affected by rain or ground water.
ThorTurf Base Stabilizer (Optional)
Although ThorTurf Base Stabilizer is optional, we highly recommend spraying it over properly prepared and compacted base materials. Base stabilizer is a spray-applied binding agent engineered to lock down the surface layer of arena base materials. ThorTurf Base Stabilizer helps prevent migration of loose base materials upward and into ThorTurf footing materials.
ThorTurf Footing Depth Requirements
Fibered ThorTurf: Minimum depth of 3 inches
Non-Fibered ThorTurf: Minimum depth of 3 inches
ProTurf: Recommended depth is 3 inches
ThorTurf Base Stabilizer (Optional)
Fork lift or pallet jack for unloading ThorTurf bags from delivery truck.
Skid Steer for moving piles of ThorTurf around arena.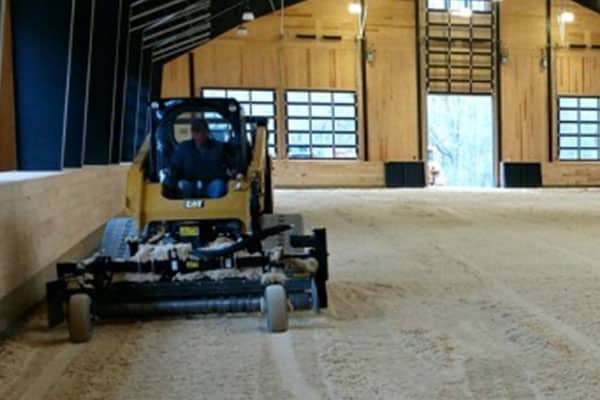 Harley Rake for finishing and leveling ThorTurf.
Hand Rakes for leveling ThorTurf around edges and walls.
Thor Groomer for finishing installation and ongoing maintenance of ThorTurf.
Ideally, three workers are required to install ThorTurf.
Step 1
Unload super sacks (2,000 lb. bags) of ThorTurf from delivery truck with forklift, pallet jack or tractor with fork attachments.
Step 2
Empty bags of ThorTurf into arena by cutting along the bottom edge of super sacks with a razor knife or similar cutting tool. Empty contents onto properly prepared base.
Step 3
Flatten and smooth out piles of ThorTurf using the bucket attachment on the skid steer or loader.
Step 4
Use the Harley rake to continue to smooth and level ThorTurf. If needed, use a hand rake to spread ThorTurf along edges and walls.
Step 5
Perform final ThorTurf grooming with the Thor Groomer.
Keep ThorTurf clean by removing manure and other foreign substances after each riding session. Periodically groom ThorTurf with the Thor Groomer or similar grooming implement, ensuring metal tines or other protrusions on the drag unit do not go any deeper than 2 inches into ThorTurf. In any event, do not allow tines to come into contact with base materials.
Download Arena Installation Guide
Your guide to ThorTurf arena footing from the ground up. Includes base requirements and all steps involved with installing ThorTurf.